Newsletter – December 2012
December 12, 2012 at 10:08
December 2012
"Know that the Lord, He is God; It is He who has made us, and not we ourselves; We are His people and the sheep of His pasture. Enter into His gates with thanksgiving, And into His courts with praise. Be thankful to Him, and bless His name. For the Lord is good; His mercy is everlasting, And His truth endures to all generations."   -Psalm 100:3-5 NKJV
Greetings in Jesus' Name,
Thanksgiving signals the end of the year for me.  This is the time we should look back over the entire year, starting at last Thanksgiving and praise God for His graciousness throughout.
The year begins with the celebration of Emmanuel; "God with us."  Then with thirty years compressed into several months we stand in awe at Calvary.  The ultimate hand of God as we stare into the empty tomb!
The remainder of the time until Thanksgiving is not just for totaling up all the "goodies" from God, but for allowing the much greater gifts to claim our thoughts:  Births and hope-filled deaths. Children and grandchildren launched off to college.  Sons and daughters uniting with life unions.  Not to be overlooked are the personal infusions of Grace and Mercy from a forgiving Father.
So here we find ourselves between the end of the year–Thanksgiving, and the beginning–Christmas.
The annual Harvest party signaled our approach to Thanksgiving. Each year the "family" gathers. They come dressed in the costumes of His Mansion community; its rural life and characters.
The "outfits" are judged according to category and originality.  Staff families–especially the children–play key roles.  In our archives, we retain pictures of this event going back so far that today grandchildren may be spotted among the strange and wonderful participants.
The final event of the evening is the annual pie-judging contest.  Jim Ford, Director of Operations, has been involved in so many judging scandals over the years that he was not allowed to be a judge!  When he judged, if it was not a Betty Crocker pumpkin pie, you didn't have a chance.  This year one of the entries was a pumpkin cheesecake!

The actual Thanksgiving dinner saw a variety of meat, vegetables, and fruit grown right here on "the farm."  Fresh turkey, sweet potatoes, peas, squash, potatoes, string beans, and more, graced the table.  A number of our residents, who have never enjoyed a day of thanksgiving accompanied by such a grand feast, will remember it all of their lives!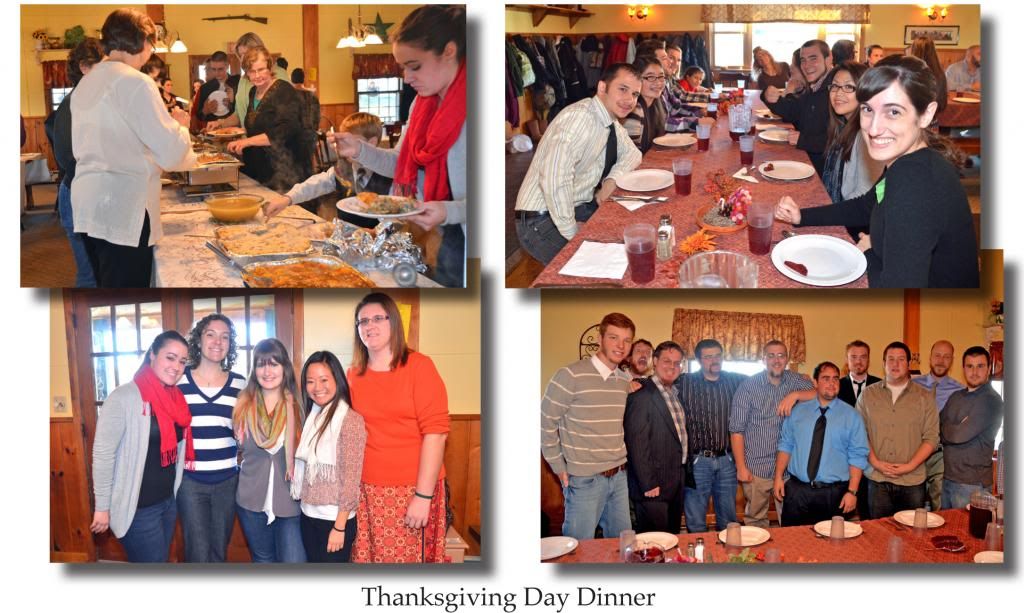 Now we look forward to the beginning of the year–not January 1st, but Christmas day!  Emmanuel.  What a special day for us all.  God became a man–a babe–and lived as we live so that as an innocent soul He might proceed to the Cross, where we might be redeemed.  Does it get any better than this?  Indeed not!
This particular season is a season of change in another way, for the family at His Mansion. Paul Atkinson, who came on as my replacement two years ago, has been faced with health issues within his extended family (many of us are faced with aging parents and grandparents).  Paul has always placed his family as the highest priority, and these responsibilities, along with other concerns have been God's voice moving him to resign his position as CEO and move on to the next chapter in their lives.
Paul and Robin have been widely embraced by the family here and Paul has exercised a great administrative gift, which is in evidence in the leadership team and the physical plant in general.  They will be missed.
We pray for wisdom and guidance as Paul makes himself available to God's service wherever they settle down.
Dr. Michael Tso, Director of His Mansion's Institute, will serve as the Interim CEO while the Board follows God's leading to His choice for a, hopefully, long-term CEO.
Churches are making difficult decisions, as are individuals, as to where their dwindling funds and time will go.  Yet, our culture steals away our children and grandchildren, absorbing them into drugs, alcohol, and Internet-based addictions.
It is more important than ever that the church and saints that make her up, get behind family-saving ministries that have proven to be reliable stewards of your funds and time.
His Mansion will be here for you, and your families.  We are a safe and profitable venue for your summer youth and adult work teams.
His Mansion continues to take no state or federal funding.  We do not charge parents or residents a fee for the help provided.  Those who serve at His Mansion, and the two Christian Growth Centers, do so without salary or benefits.
His Mansion's approach to healing–and life in general–is swimming upstream against the tide of our culture!  Good manners must be practiced, sharing is stressed, wood needs to be chopped or you freeze; seeds planted, sprouts nurtured, fruit harvested, or you go hungry; dishes cleaned, lawns mowed, snow shoveled, windows washed, steps and rails replaced, vehicles maintained; and the list goes on!
"No work, no eat" still applies!  There is no handout here even though those here for help do not "pay."  The whole concept of work goes hand-in-hand with biblical mental and emotional health.
Certainly Christmas is fully God's gift to us.  At His birth, gifts and offerings were brought to Him.  Tradition has us bringing our treasures to God during this season.  Please consider making His Mansion one of your choices this year.
Fully a third of His Mansion's income will come during three months of the year.  This year-end period is crucial to the entire year.  If you do year-end planning for estate or corporate gifting, now is the time to pray and consider making His Mansion a part.
Every person who serves at His Mansion Ministries is a missionary.  They exist on gifts from their churches and friends.  If you know anyone serving either at His Mansion in New Hampshire, or at the Growth Centers, please consider a special, generous, year-end gift, indicating your preference.  Our current long-term staff consists of the following faithful servants:
Stan & Joan Farmer; Director Emeritus
Dr. Michael &Emily Tso; Director of Training  (Interim CEO)
Jim & Laurie Ford; Director of Operations and Program Director
Todd Battles; Director of Counseling and Christian Formation
Jennifer Stanger; Executive Assistant
Ron & Alice Donovan; Director of Connecticut Christian Growth Center
Dennis & Frances Coulombe; Director of Michigan Christian Growth Center
Bill Kurtenbach; Office Manager
Dave & Diane Hultgren; Men's Staff Counselor & Instructor and Finance Administrator
Seth & Karen Hilliker; Auto Shop and Women's Staff Counselor & Instructor
Dwayn & Brianna Merrill; Woodlot Supervisor
Josh & Amelia Jenkins; Agriculture Supervisor
Ignacio & Heather Gneco; Building and Maintenance Supervisor
Nick & Kate Clark; Men's Counseling Supervisor
Courtney Jones; Men's Staff Counselor & Instructor
Matt & Chris Kantrowitz; Men's Staff Instructor and Women's Counseling Supervisor
Kris & Kari Olson; Men's Program Administrator
Jason & Britney Bennett; Men's Program Department Assistant and Women's Program Administrator
Lisa Turton; Food Services Supervisor
General gifts for the "community" at Christmas are carefully wrapped and distributed.  The most popular way to do that these days is with gift cards, which can be distributed to our staff and residents on Christmas morning as a part of our "Gifts from God's People" program.  Wal-Mart, McDonalds, Dunkin Donuts, phone cards, and the like, are easy to handle and greatly appreciated.
Practical items; i.e., tooth paste, gloves, heavy socks, toiletries, makeup, denims, and more can be packaged and given to those who have no support from families or friends.  Be creative.  Be sure to enclose your name and address so a receipt can be sent.
This has been a year of considerable blessing.  It would not be possible were it not for your love for us, and your generosity. We will once again end the year free of debt and with all bills paid.  We look forward to your prayers and gifts this season.  God bless each one.
Joyful in His Service,

Stan Farmer; Director Emeritus