Newsletter – February/March 2013
February 27, 2013 at 14:32
February/March 2013
"Therefore I (Jesus) tell you, her sins, which are many, are forgiven—for she loved much. But he who is forgiven little, loves little."
–Luke 7:47
Greetings in the name of Jesus,
How much do we need Jesus? This is a question that I have asked others and have been pondering in my own life over the past month.  In a world that is constantly telling, showing and challenging us to take control, to do or buy a certain thing, to desire a certain type of relationship, job, car, lifestyle or body type, we often allow these lies to creep into our hearts and minds and then begin acting accordingly.  Subtly and surely, we find ourselves at the command center trying to desperately attain "whatever" it is that we believe we need to feel whole, complete, happy, content and connected.  The problem is that "something" is never quite enough to satisfy our soul, and we begin the search again for that something else that will.
That is why the story of "woman of the city" in Luke 7 has captured my imagination. This prostitute has the audacity to walk uninvited into a religious leader's home during a meal (surely greeted by many stares of disdain) and begin to weep on Jesus' bare, calloused feet and wipe them with her hair.  Then she kisses them (dust, dirt and all!), and finally anoints them with precious perfume from her prostitution trade.  She knows who she needs and wants more than anything or anybody.  She defies all 1st century Palestinian decorum to be able to sit at the literal feet of Jesus and to worship Him.  She debases and humiliates herself before a scornful world because she KNOWS what she needs.  Her heart is tender while Simon the Pharisee's heart is hard in its smug, self-satisfied, "I'm good enough" sort of way.  This woman knows her need and is forgiven by Jesus and then told by Him, "Your faith has saved you; go in peace."  Wow!  Her faith in the person of Jesus has rescued her from shame, sin, guilt and fearfulness.  Jesus bestows peace on her, His Peace!
This is what I see happening in a gradual but often painful process here at His Mansion.  Residents come to His Mansion knowing that their lives as they were living them were a mess.  They know that they need something entirely different, but are often unsure what.  Some have knowledge of Jesus and others, none at all.  But because they acknowledge their need and their neediness and are willing to do something about it, their hearts are often tender and ready to receive the Spirit of Christ and begin to allow Him to transform their hearts from stone to flesh.  This community, by God's grace, has been a magnificent place to see God do His work in the lives of men and women, and we as staff get a front-row participating seat and praise God for His glorious work.
The culmination of this work and redemption process was evident at our most recent graduation ceremony held back in January.  What a privilege it was to witness four women and six men give praise, glory and testimony to the healing through Christ that they experienced throughout the year they completed as residents within the His Mansion program.  Family and friends of the ten graduates drove and flew in from various states across the country to celebrate with their loved ones.  God's promise of restoration was seen even in the reunion of these graduates and their families.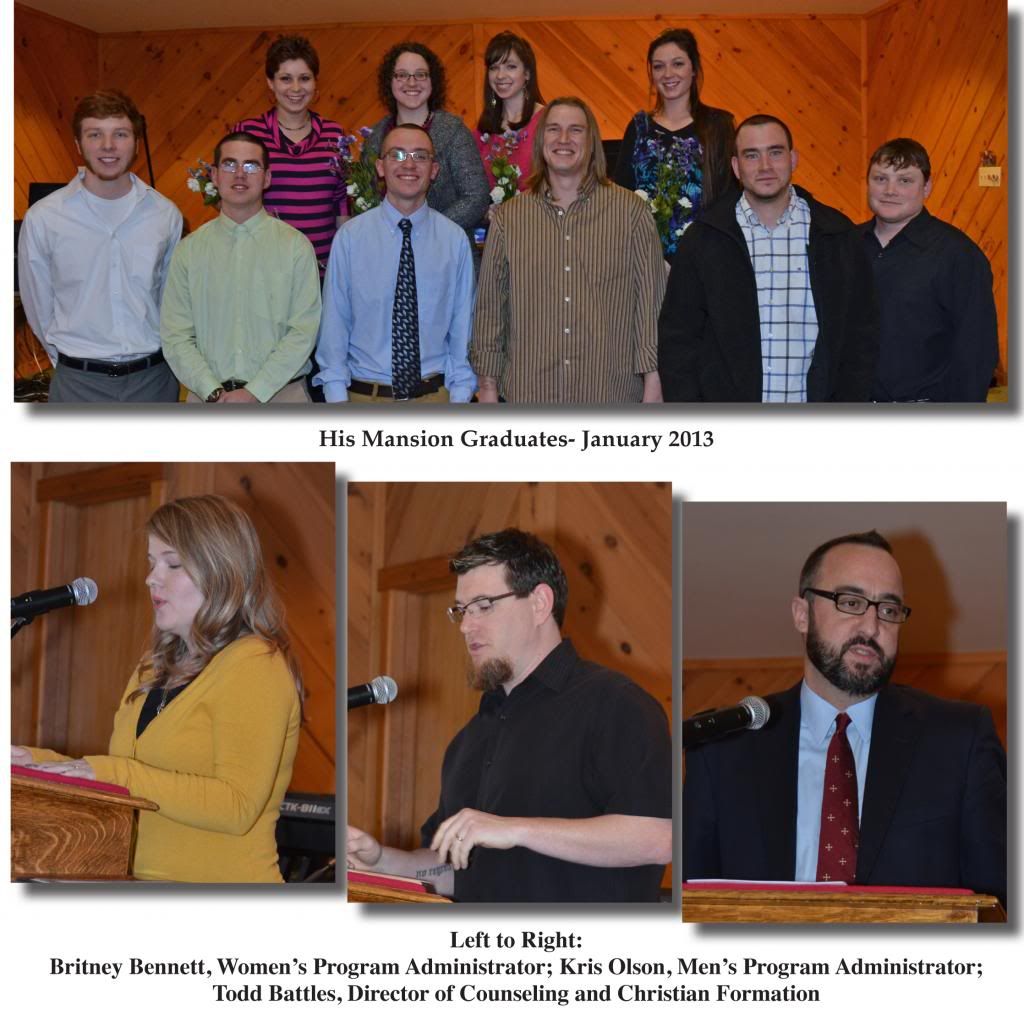 I want to share with you a portion of a testimony that was given by a woman graduate during January's ceremony.  I hope you are encouraged by the words of hope and Jesus' healing power that are shared in this personal story.
Before I came here (to His Mansion Ministries) I felt completely broken. I felt as if my whole life was falling apart and I was destined to be stuck in this feeling for the rest of my life.  I was battling an eating disorder that completely distorted the way I viewed myself, to the point I realized one day that there was never a skinny that was skinny enough for me. I also struggled with self-harm, using it to cope with the immense pain that was building up inside of me. Nothing seemed to work, God felt distant and I felt alone. Memories from past rapes by a friend and my mom's suicidal threats flooded my mind both day and night leaving me feeling restless, no longer wanting to be alive. How was I supposed to live another day with all this pain inside? On top of all this, my dad and step mom pulled me out of school mid semester making me come home after spending a week in the hospital, for fear of my life. I had hit my rock bottom and life didn't look worth living anymore. Like I said, I knew the Lord but how was I supposed to trust Him after everything I had been through.
 I knew I needed help but was I ready to give up my dream of being skinny and beautiful? I knew if I didn't get help soon I wouldn't be alive much longer. So I made a deal with my counselor that if she could find a Christ-centered treatment facility that wouldn't be a financial burden on my family or I, then I would go. I should have expected that she would find something. It wasn't long after this agreement that I received a call from her about His Mansion. I couldn't believe what I heard and instantly started to make up excuses saying that I wasn't sick enough to go somewhere for a whole year. But after a lot of thought, prayer and helpful advice from concerned friends and family, I decided to go to His Mansion.
I look back on this year in awe of what the Lord has done. He has taken a life, once without hope, and has given me a reason to live again and has changed my eyes allowing me to look through the very eyes of Christ. The distorted view I once had of myself is slowly being replaced with the intended identity I was originally given in Christ Jesus. My relationships have also changed and the need to manipulate others for their love is no longer a need because I know I am loved no matter what, by the one who knit me together, from the very beginning, God himself.
Once I helped people for my own benefit so I would feel loved, wanted and important, getting glory for myself, but now with the assurance that I am loved and cared for by the Creator of all things, He has changed my heart. I now help people with a heart of Christ as one that loves others without the expectation of receiving something in return but loving because God has called me to do so.
God has taken my heart, one full of anger, hatred, hurt and hiddenness, and has set me free from the things of my past, giving me a heart of compassion for those who have hurt me, allowing me to release them into Gods hands and forgiving them. I now see that what Satan intended for evil, God intended for good and how all things, regardless of how bad, work together for good for those who love Him.
I've never been in love before but I can honestly say now, that I am in love with Jesus and know that He loves me more than I could ever imagine and treats me like royalty. He never turns His back on me and has and will always be there for me. A year ago I had no hope and no desire to live another day. Today I stand as a new creation, alive in Christ, blessed because He has saved my life.
You also, as our prayer and financial supporters, are an integral part of God's work that we are seeing and praising daily here on this hill.  I would encourage you to praise God for your participating role that allows us to share such a testimony with you.
A FEW GOOD MEN AND WOMEN.  One of the on-going critical needs of His Mansion that I would ask you to pray for is short-term staff.  These are young men and women 18-40 years old who volunteer a year of their lives as front-line ministers of God's love and the Gospel to our residents in the dormitories, on work crews and in actively living life as a part of this community.  It is an incredible ministry and growing experience as they are instruments in the Redeemer's hands.
In the past 2 years we've been blest with a robust crew of men and women who have served well but many are completing their commitment in the next 6 months.  If you know of a young man or woman who loves Jesus passionately, wants to grow deeper in God's love and desires to make a difference in God's kingdom, please have them contact the ministry for further information. As soon as possible!
Renovate, remodel, refresh and renew!  Because of the busy hive of activity at His Mansion as we work, worship, learn and grow with 110 men, women and children, our wonderful facilities are in need of constant upkeep.  We seek to steward the resources of our physical plant with lots of care but after 25 years things like carpet, decks and toilets wear out.  If God has put on your heart to volunteer your skills or your resources towards some of these needs, please contact Jim Ford, Director of Operations, by email at jim@hismansion.com.
Back in December of 2012, our His Mansion family gathered for our annual family picture.  It was quite an adventure to gather every resident, staff and child together, to get everyone to smile at the same time and to click the camera at just the right moment to capture the love and appreciation that our family has for you, our faithful supporters and prayer warriors.  It is because of you that each person in this family picture (included below) is able to be here, both staff and residents.  Thank you!
With a new year and with new residents, we have the opportunity to see God begin a new work in our hearts. We appreciate each of you who pray and give towards this work of the Gospel of Jesus Christ in the lives of men and women at His Mansion. We can't do this work without you. And we can't praise God enough for His Providence that meets all the physical, relational and spiritual needs of our community, and this month is no exception. May you experience your deepest needs met in the person of Jesus each day.
Seeking to live grace and truth in community,

Michael Tso
Interim CEO