Newsletter – January 2013
January 18, 2013 at 10:24
 January 2013
"The people who have walked in darkness have seen a great light; Those who dwelt in a land of deep darkness, on them has light shined."  – Isaiah 9:2
Greetings in the name of Jesus,
In December, one thing about living on a farm in New Hampshire is that you notice how dark it gets at 4:30 pm. Since I have a 400 yard walf from my office to my home on an unlit, dirt road and through barren fields, I am acutely aware of darkness, mostly because I don't want to fall into a roadside drainage ditch.  I also drawn to the lights of our home which represent warmth, safety, and family. 
Isaiah is prophesying about Jesus offering hope to a people and land dwelling in deep darkness. Isaiah and Israel knew the ravages of war, suffering people, and fear of the future not unlike what we see in our world today. Jesus is the light of the world and he is dispersing the darkness of our world. His coming as the Babe in a shadowy, cold manger brought and continues to bring hope to the human race.
Light is what I've seen in the eyes and faces of our residents and staff this Advent season. We have taken time, which is so precious, to anticipate the coming child King through an Advent service on December 1st, through fellowship around tables, through creative and artistic expressions of our love for Jesus coming down to "be with us," Emmanuel, and culminated in the Nativity play in our 250 year old barn and a birthday party for Jesus, the one who came and is coming again.
I'd like to give you a richer picture of God's work in our community through these events and activities of the last month…
Our Christmas Coffeehouse took place mid-December and was a wonderful night of staff and residents displaying a variety of God-given gifts and talents as they put on various musical performances, comedic skits and reciting poetry. As I sat back and took in all the talent and joy shared that evening, I realized the extent of new life and self-discovery that was before me. Residents arrive on this hill lost and broken. Many have lost themselves into lifestyles of drugs, alcohol, and addiction, and in that, they have lost who they are, what they enjoy and how God has uniquely gifted them. Christmas Coffeehouse was both a celebration of the coming birth of our Lord but also a celebration of the new birth and life many of our residents have found over the months they have been here, life found only in Jesus Christ.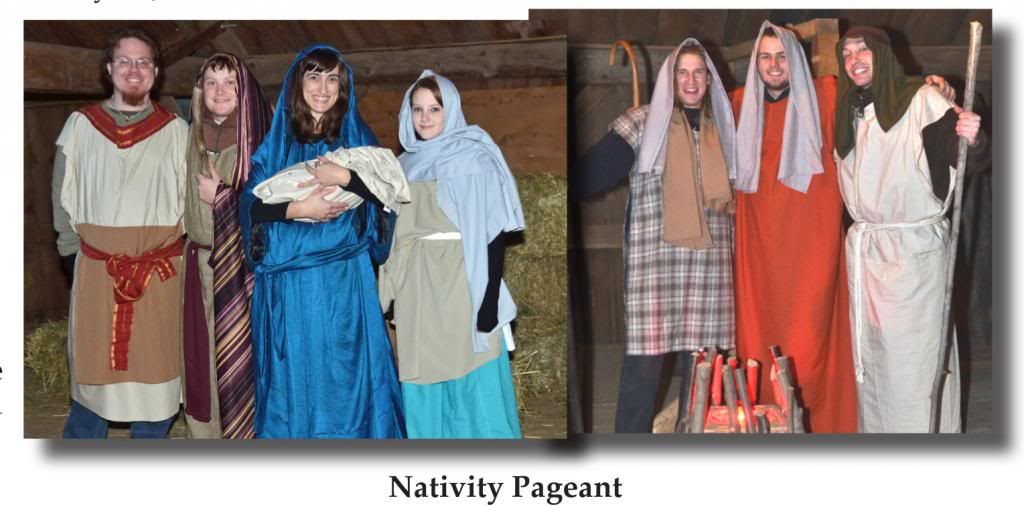 Christmas Eve night brought to life our annual Nativity reenactment. Staff and residents were the main performers and had practiced for the month prior for each of their roles. All the His Mansion family bundled up for the cold night and congregated together in the barn as the scene of Jesus' birth was played out before us in the upper loft of the barn. Together as a family, we lifted up praise to the Father for the birth of His Son, our Savior.
We continued the evening of His Mansion traditions by returning back to the warmth of Griggs Dining Hall and bringing out a beautifully lit angel food cake to voices singing "Happy Birthday" to Jesus. Each year I am blessed by watching the young children of long-term staff running up to the table to participate in blowing out of the candles together. It is a precious sight.
Christmas morning brought the whole Hill family together in the Chapel for an immense outpouring of love. Our "Gifts from God's People" program this year was such an incredible blessing. Donations came in from individuals, families and churches from all over the US and Canada. I saw astonished faces and glimmering eyes as an overflowing gift bag was handed out to each resident. Handmade hats, gloves, scarves, journals, toiletries and other such items, along with a variety of gift cards, filled each one. In the joyful chaos of this distribution of bags, I overheard a female resident exclaim, "I never imagined we'd be receiving gifts for Christmas!" We thank each of you who so generously gave to make this very special Christmas morning possible!
As we begin the new year, the Lord has impressed on me this theme of heart transformation. Just as the light transforms darkness and reveals the physical landscape, the light of Christ lays bare the landscape of our hearts and wants to transform our hearts into hearts of flesh rather stony self absorption and sin.
The personal testimony of long-term staff members, Kris Olson, Men's Program Administrator, and his wife, Kari, demonstrates this process of transformation that can only come from the light of Christ in one's life. As you read their testimony, I ask that you consider to be purposeful in lifting the Olson family up in your prayers this month as we praise God for the words that they have to share.
How did a boy from Montana meet and marry a girl from Connecticut, in Tennessee? This is a testimony of how God used His Mansion Ministries to save a sinner, marriage, and family, for His glory.
I (Kris) was born and raised in "Big Sky Country." I grew up in a dysfunctional Christian home, but embraced Christ as my Savior nonetheless. My elementary school years were very rough, as I was a target of bullies for years. My father was an alcoholic and drank regularly, which caused nightly arguments between my parents and uncomfortable and fearful situations for me.
Fear was a driving force in my life and a root to much of my pain and decision making. I graduated High School in 1992 and moved that same year to Redondo Beach, California to be the Assistant Administrator for a Christian outreach ministry called Sanctuary, "The Rock & Roll Refuge." This was my first experience in preaching the gospel to the hopeless and hurting, in a ministry capacity. I worked for Sanctuary for two years when the ministry chose to relocate to Nashville, Tennessee. I decided not move there, but moved back to Montana instead.
The next few years proved to be some of the darkest periods of my life. I experienced some failed romantic relationships and became angry at God. I felt God had let me down in several areas of my life, therefore I chose to see "what the world had to offer." What a cold-hearted world it proved to be.
I began drinking alcohol and frequented biker bars and taverns. I became friends with some very "shady" individuals and was swept into the volatile world of cocaine and methamphetamine usage and distribution. During this time I experienced many horrible and painful events. In the end, because of my choices, I was left with many mental wounds and was a very broken person.
After years of escaping my pain by way of drugs and alcohol, I reconnected with the Pastor from Sanctuary, the aforementioned ministry that relocated from California to Tennessee. I moved to Nashville and though I still struggled with addiction, God brought a beautiful Christian woman into my life, through the ministry of Sanctuary. I began attending the same church she was attending and God began to restore my life at this time. Kari and I were married in January 2001 in Tennessee.
In 2002, we decided to move to her home town to be closer to family, and in 2004 our beautiful daughter Sinead was born. However, my battle with my addictions and fear was taking its toll on our marriage.
(Kari) During my pregnancy with our son Jaden, it became very clear to me that something needed to change. Kris' addiction had become more than I could handle and we separated. With much counseling, we moved back in together a year and 3 months later. Things were great for a while, until his addiction took hold again. God showed me that he would need to go away for a time to heal. I had known about His Mansion for several years, as my church had been there for work groups and I'd known people who went through the program. He sent in his application and a few short months later entered the program. The kids and I spent the next 13 months, traveling to see him any time we were allowed to visit. The first few visits, there didn't seem to be much change in Kris, but as the program went along, the man of God I fell in love with began to emerge from the wreckage. After his graduation from the program in 2008, the kids and I joined him there as he served as a Mentor for a year. It felt like home and I assumed we would be renewing our commitment for at least one more year. God however, had other plans. At the time I didn't understand why He would have us leave. Looking back, I understand. While Kris had gone through much of his healing, I was still very wounded and in need of my own healing. We moved back to Connecticut. Gratefully, God provided a wonderful counselor who helped bring about not only healing for me, but for our marriage as well.
During this time, Kris was able to take some college courses on Drug and Alcohol Rehabilitation Management and was leading his "Overcomers" recovery group on Friday nights. He was offered a job at FedEx Office and was quickly moving up in the company in management. While everything seemed to be going well, it seemed like we were in a "holding pattern." We had been living with my parents since we left His Mansion. We tried several times to move out, whether to an apartment or a house, but nothing seemed to work out.
We went to His Mansion to attend the graduation of one of the men from Kris' Overcomers group in May, 2012. Hearing the graduate testimonies that day brought to mind words that were spoken during one of the hardest times of my life: "Out of our greatest pain comes our greatest ministry." It was time to come home. God worked out every detail, and a couple months later, we came home to His Mansion. What a blessing to once again be a part of such an amazing ministry!
Psalm 147:3 says "He heals the brokenhearted and binds up their wounds." We are so grateful to be witnesses to this miracle every day. God has restored our lives and our family, and now together, He is using us to minister the same healing and love to those hurting around us. What a great God we serve!!
-Kris and Kari Olson
As reflected in the Olson's testimony, one of the great joys at His Mansion is to see hearts transformed in residents and staff and to see the likeness of Jesus lived out in our countenances, our relationships, and slowly but surely every part of our lives. On January 12th, six men and four women graduated the program and four days later a whole new crew of men and women arrived looking for hope and healing. We ask for your prayers for strength and stamina to love as Jesus did, and does, for the whole of 2013. We additionally ask for prayer as we search for a new CEO to lead our community and for prayers for wisdom and strength for me as I serve in the interim role.
The Board of Directors looks forward to receiving applications for the CEO of His Mansion Ministries. If interested in obtaining more information, please email ceosearch@hismansion.com to receive the specified qualifications and job description for this position. To apply, please submit the following requirements to this same email address; a letter of personal introduction, including any involvement with His Mansion; a resume; and contact information for three references. We are excited to prayerfully review all applications received.
Sharing the powerful work of our Lord and Savior at His Mansion, and the opportunity to encourage the saints, has always been one of our great joys. If this testimony might encourage or benefit you or your church, please contact us at outreach@hismansion.com. We would be blessed to arrange for Stan Farmer, another His Mansion staff member or myself to share this message of hope and healing with you.
We have closed the books for 2012 and have moved full-throttle into 2013. For as long as I have been a part of this ministry, each newsletter is brought to an end with reporting God's blessings and provisions that allow us to say that all our bills are paid and His Mansion holds no debt. This month is no different yet I don't want these words to be lost in the regularity of which they are used. God has been, and continues to be, so faithful to His Mansion Ministries. Each one of you plays a role in the life-changing work the Lord is doing here on this Hill. It is through your faithful support, prayer and friendship that we remain able to give this report every month, the report of God's blessings and provisions that continue to sustain us. We praise Him for His abundant goodness, grace and love.
Seeking to live grace and truth in community,
Michael Tso



Interim CEO