Newsletter – October 2012
September 25, 2012 at 15:46
October 2012
"Now to Him who is able to keep you from stumbling, and to present you faultless before the presence of His glory with exceeding joy, to God our Savior, who alone is wise, be glory and majesty, dominion and power, both now and forever. Amen."  -Jude 24, 25
Greetings in Jesus' Name,
After forty-one years of serving the broken and disheartened, I've concluded that it is virtually impossible to go through any prolonged stretch of life without stubbing my toe on something!
Whether by willful intention or merely dealing with everyday strife and stress, we all manage to stumble over sin.  It is simply beyond the power of will, or dogged determination, to live life above reproach.
Last month marked the third yearly graduation of residents.  Among other things, graduation means moving out of His Mansion and moving on–a frightening prospect for many.  They (grads) know that they will be tempted.  The haunting fear and doubt is, "will I be able to withstand the onslaught of temptation?"
Let's take a careful look at the passage I've chosen this month.  No one has the power and resolve to avoid stumbling at some point.  We need power, and most importantly, help, to keep from stumbling.  Remember in John 14 where Jesus is quoted: "If you love me, keep my commandments.  And I will pray the Father, and He will give you another helper…"?
It is the indwelling Spirit of Truth who is our constant "helper." The rest of our verse holds the reward that should motivate us.
A fair number of our residents have never had a father who cared or who was there!  For too many, "dad" was a guy who couldn't be pleased or was so disappointed by the shame his children brought upon him, that they feared being seen by him, let alone stand before him.
Imagine the joy that would be theirs to actually stand boldly in their dad's presence and know that they had made him proud!  "…and to present you faultless before the presence of His glory with exceeding joy…"
That's our goal, to acquaint the broken and wounded with the Divine Helper so that they can have confidence in making the right choices knowing that their new Heavenly Father welcomes them with joy!
Recently, over a dozen men and women stood on thebeachofDeering Reservoirbefore the elders of the little church that meets here. They were there to follow Christ in immerson baptism.  It is a moving experience often witnessed by bystanders.
Men and women, many who could never have envisioned this event a mere year ago came forward as I, and two others, relived a drama played out millions of times over two thousand years.
After the last one returned to the shore, I reminded the "witnesses" that there remained plenty of water in the lake, and an unlimited Holy Spirit. A man, who was a part of a volunteer work crew from a church inVirginia, came out to declare his faith; then another came.  A young woman, who is serving on staff, timidly entered the cold spring-fed lake and shuffled toward me.
It would be my delight to help her make her stand.  Forty-three years ago I stood as best man at her grandpa and grandma's wedding!  Who could've known then that three generations later I'd baptize their granddaughter?  Praise God for His faithfulness!
There's just a hint of color creeping into extremities of the forest.  Geese are forming "vies" and orange pumpkins are peeping out of the vines.  Summer has come to an end and God gives us a blast of beauty and relief from the heat before plungingNew Englandinto the deep-freeze.  The four seasons have so much to teach us about life!
The coming months are filled with harvest, thanksgiving and the welcoming of the blessed Son of God.  Summertime is always the toughest time financially, but God has provided.  The next three months traditionally provide the support and year-end giving that keeps His Mansion in the black.  Please remember His Mansion in your prayers and sacrifices during these crucial months. We are very appreciative of your love and support of this work.
I would ask your continued prayer concerning the impact of recent government programs upon ministries.  We do not fret, as the One who has always provided has not changed, and in Him there is always reliable hope.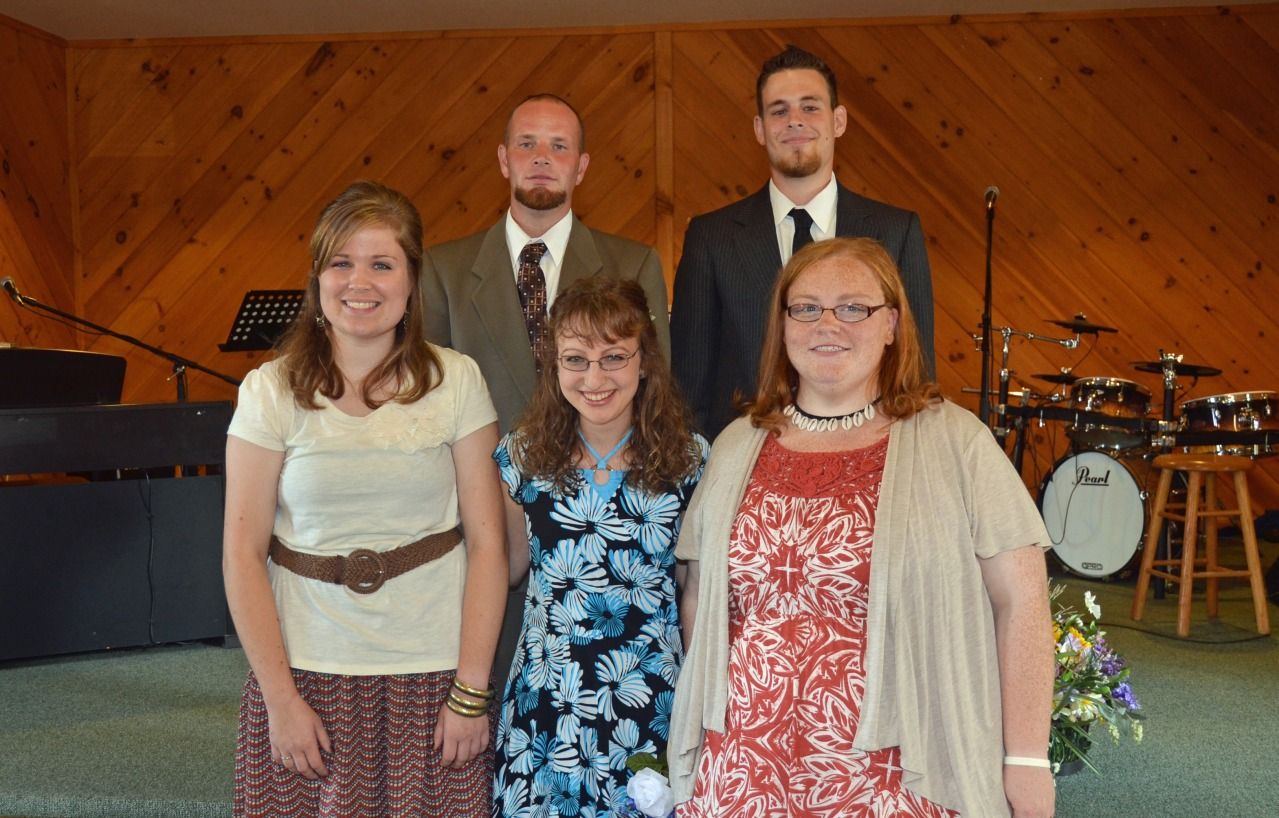 Now Paul…
On Saturday, September 8, we had the privilege of celebrating the healing power of our Lord and Savior with family and friends as five His Mansion graduates concluded their time as residents within our program.  Most graduates would describe their time at His Mansion as an "emotional rollercoaster" and graduation day was equally as emotional.  The excitement, joy, sadness and fear could be felt by all in attendance.  We pray, and covet your prayers, for these three women and two men as they have left the familiarities of His Mansion and are walking into the new and unknown path the Lord has laid before them.  May they keep their eyes on Christ, trusting Him to lead and guide them and entrusting Him to pick them up when they stumble.  Here is the testimony of one of the female graduates as she shared it on graduation day.
I grew up in North Carolina living with my dad, mom and younger sister.  I learned about God and being a Christian, with all of the rules and Bible stories both at school and at church.  I never went hungry and always had clothes.  I was generally liked, viewed as a sweet girl with talent and potential for success in education and life.  From the outside, my life looked picture perfect and I was seen as one of those "well-rounded kids on the right track."  I was strong and I had worked for years to build this wall so that others would see me like this.  Little did I know there was a small crack in my wall.
In my house, my family was abusive- physically, verbally and sexually.  My grandmother was the closest person to me and she played the mother-role in my life.  When she passed away when I was 11, I realized for the first time that I actually NEED God, not just to know the rules and the stories.  This was the first spark of my faith.  I did learn more about God and the importance of spending time with Him and other believers all the way through high school, but all the while, that crack in my wall of masks was opening up and growing bigger and wider.  When I left home for the first time and moved into college, the crack burst open and my familiar, strong wall, shattered.  I found myself in unhealthy, emotionally dependent and controlling relationships, seeking attention in extreme ways.  Depression and anxiety took control and the fear of man and relationships become paralyzing.  Prescription drug abuse and not wanting to live anymore clouded my mind and wrecked my life.  I was out of control, but even through this, God remained sovereign and in control, bringing me to His Mansion in May of 2011.  Even still, my stubbornness and selfishness controlled my thinking, beliefs and actions.  I didn't know my need for Jesus and I didn't want His healing for myself; it was only because other people wanted it for me.  I was not willing to be wrong or to hear truth spoken into my life.  Besides, I didn't believe I could change.  So I took my shame and ran again, leaving His Mansion.
This is when I fell flat on my face, the beginning of God humbling me because I had chosen not to do so myself.  I wanted to die and tried to by overdosing, but I know now that God reminded me of hope in these dark days.  He didn't ever leave me.  I was desperate, ready to surrender everything–all darkness, all hiddenness–everything I had and everything about me.  I wanted it ALL out on the table.  I wanted Jesus and I finally realized that I need a Savior because I truly am nothing apart from Him.  This became the ONLY thing I cared about.  I dove absolutely, completely into Him, His truth and His Word.  He shook my world with His unconditional love and abundant grace.  By this ALONE, I arrived back at His Mansion on September 18, 2011 (only 33 days after I left) with a new perspective on life, God, myself and this ministry. 
Shortly after being here, I realized I knew a good amount ABOUT Jesus, but I had never thought much about WHO He is to me and how different He makes my life.  So, I'd like to say my time here as been smooth and pretty, but it has been beautifully ugly.  There have been so many times, trials, conversations and situations through which God has taught me truth and revealed so much about Himself and myself.  It is really overwhelming.  There is freedom and He wants that for me.  He has already set me free through Jesus and it is my choice to accept it.  He has told me that He does not, has not, and will never regret creating me.  He has a purpose for my life and I do not have to be perfect to know Him.  I don't have to know all the answers to all of my questions in order to trust God.  I will never have all of the answers this side of glory and besides, I don't want to wait any longer since I can choose to trust Him now and make Him Lord of my life.  I now have a hunger to know Jesus more and a passion for my God, to love Him, to serve Him and to be drawn deeper into the intimate relationship that satisfies my every longing and every need.  My prayer is to know the love of Jesus and His grace so deep down in my heart that it continues to changes my life daily.
Although this is one woman's story, it represents the desperate brokenness experienced by so many residents that comes to His Mansion.  This is why His Mansion exists; to offer hope and life to those who see no way out of the darkness.  The heart transformation this woman experienced is only possible through our Lord and Savior.
As we said farewell to our graduates, it was also time to say good bye to one of our long-term staff families.  After a season of serving our Lord here at His Mansion in the role of Men's Program Administrator, Eric Davids and his family, wife Anu and daughter Hadassah, felt the Lord calling them onto a new journey, taking them back to the Baltimore area where Eric's family resides.  The Davids family will be greatly missed here but we rest assured that our Lord has great plans for them and will continue to use both Eric and Anu in mighty ways for His kingdom work.
As evidence to God's perfect timing, we are excited to announce the arrival of Kris Olson and his family back onto the hill as Kris takes on the position of Men's Program Administrator.  Kris, his wife Kari, and two children, Sinead and Jaden, returned here from their hometown in Connecticut where they have been residing since departing from His Mansion in 2009 at the conclusion of Kris's one-year commitment as a mentor.  The Olson's will be sharing their unique testimony of our Lord's saving grace and how He led them back here to our family in an upcoming month.
We continue to have visiting work groups scheduled to come all the way into November!  Our most recent volunteers have been longtime friends fromSunsetAveBaptistChurchinRocky Mount,NCand new friends that came fromChantillyBibleChurchinChantilly,VA.  These folks worked hard in variety of locations around the hill including the kitchen, canning room, woodlot and wherever the need for building and maintenance repairs called.  What a blessing they were!

Sunset Avenue Baptist Church
Chantilly Bible Church
As the holidays quickly near, I am often asked the question, "What is something special I can do for the residents and staff at His Mansion for Christmas?"  During the months of November and December, we are overwhelmed by the love shown to us as many of you participate in "Gifts from God's People" by sending giftcards to us for some of our residents' favorite local spots- Dunkin Donuts, Walmart, McDonald's, Subway and Rite Aid.  Just before Christmas day, all of the items we receive from you, our faithful givers, are divided equally and packaged up.  Seeing the looks on the faces of the recipients as bags and boxes are placed before them on Christmas morning is a precious gift in itself!  For many, this may be the first Christmas celebrated in a community focused on the love of Christ.  These special Christmas donations can be mailed directly to our office and addressed to "Gifts from God's People."  Please have all items to us by the second week of December and we thank you for your desire to make this Christmas season memorable for our residents and staff.
It is only because of God's faithfulness in provision that we are able to maintain this community of His Mansion, offering the hope and healing of which you have read in this newsletter.  I give praise to God as I report that all our bills are paid and we hold no debt.  Thank you, our friends and supporters, as your devoted prayer and sacrificial giving allows this to be possible.  God bless you!
Joyful in His service together,


Stan Farmer; Director Emeritus                           Paul Atkinson Sr; CEO